GERALDTON SPRINT & OLYMPIC DISTANCE TRIATHLON
Programme & Race Rules
PROGRAMME
Transition will be closed and there will be no access after 7:45am
 
Olympic Distance Starts at 8:00am 18th April
 Sprint Distance Starts at 08:30am 18th April
 Presentations and prizes at aprox. 10:30 am
 COLLECTION OF RACE TIMING CHIPS
 7am -7:45am Sunday, 18th of April –Park, St Georges Beach
 Please collect your race pack containing your timing chip (if required), swim cap etc from Registration at Rundle Park, St Georges Beach before 7:45am Sunday 18th April (Race Day)
 
If you are a club member use your normal timing chip
 All competitors must register with race control before 6:50am and show a race number on arm & calf
 Race Briefing
 The race briefing for all competitors and teams will take place at St. George Beach, Bluff Point ,18th April
 Olympic Distance Briefing 7:45am
 Sprint Distance Briefing 8:10am
 EACH COMPETITOR MUST ATTEND THE RACE BRIEFING.
 TEAMS
 Teams will register and use one timing band only
 Teams members must only exchange timing bands in the teams area—after bikes are racked
 All Team members are to cross the timing map together on the final leg
 PENALTIES
 If you are shown a yellow card by a race official, you are to proceed to the penalty box on your current cycle or run lap for three minutes
 If you are disqualified by a race official, you must leave the race course
 Penalties will be given for Drafting (being with in 8m of bike in front for over 30 seconds)
 Blocking on the bike course—riding 2 or more abreast
 Not obeying road rules on the bike course—you must give way to all other traffic and obey all road rules
 You may be disqualified for Not completing all the course, receiving more than two warnings, Not taking a time penalty, breaking traffic laws, Disrespecting on course officials or marshals or acting in an unsporting manner
 USE OF WETSUITS
 Wetsuits are permitted for the Toyota Sprint & Olympic Distance Triathlon swim
 USE OF SWIM AIDS
 If you wish to use flippers of other swim aids you must inform race control—you will receive a time but not a race position.
 SWIM CAPS
 All competitors are to wear the supplied swim cap
 COMPLETING THE COURSE
 If you do not complete any part of the course you must tell race control as soon as possible
 ASSISTANCE ON COURSE
If a competitor requires on course medical assistance please stop and assist – in an emergency contact emergency services 000 —for assistance contact race control 041 888 1937
You are expected to be independent on course and carry spares etc, however there will be an on-course vehicle which may be able to help with limited assistance and spares
Water on Course
There will be one water stations at the 2.5km, 5km, 7.5km marks on the run course—there is no water station on the cycle course
MEDALS
Every individual and team member that completes the course will receive a unique finishers medal
DRAFTING
Drafting is strictly not allowed in the Toyota Sprint & Olympic Distance Triathlon. Competitors will be penalised for drafting. The draft zone is eight metres (roughly four bike lengths).Competitors must stay at least four bike lengths behind the competitor in front of them to correctly avoid the draft zone. There will be marshals on the course conducting drafting checks.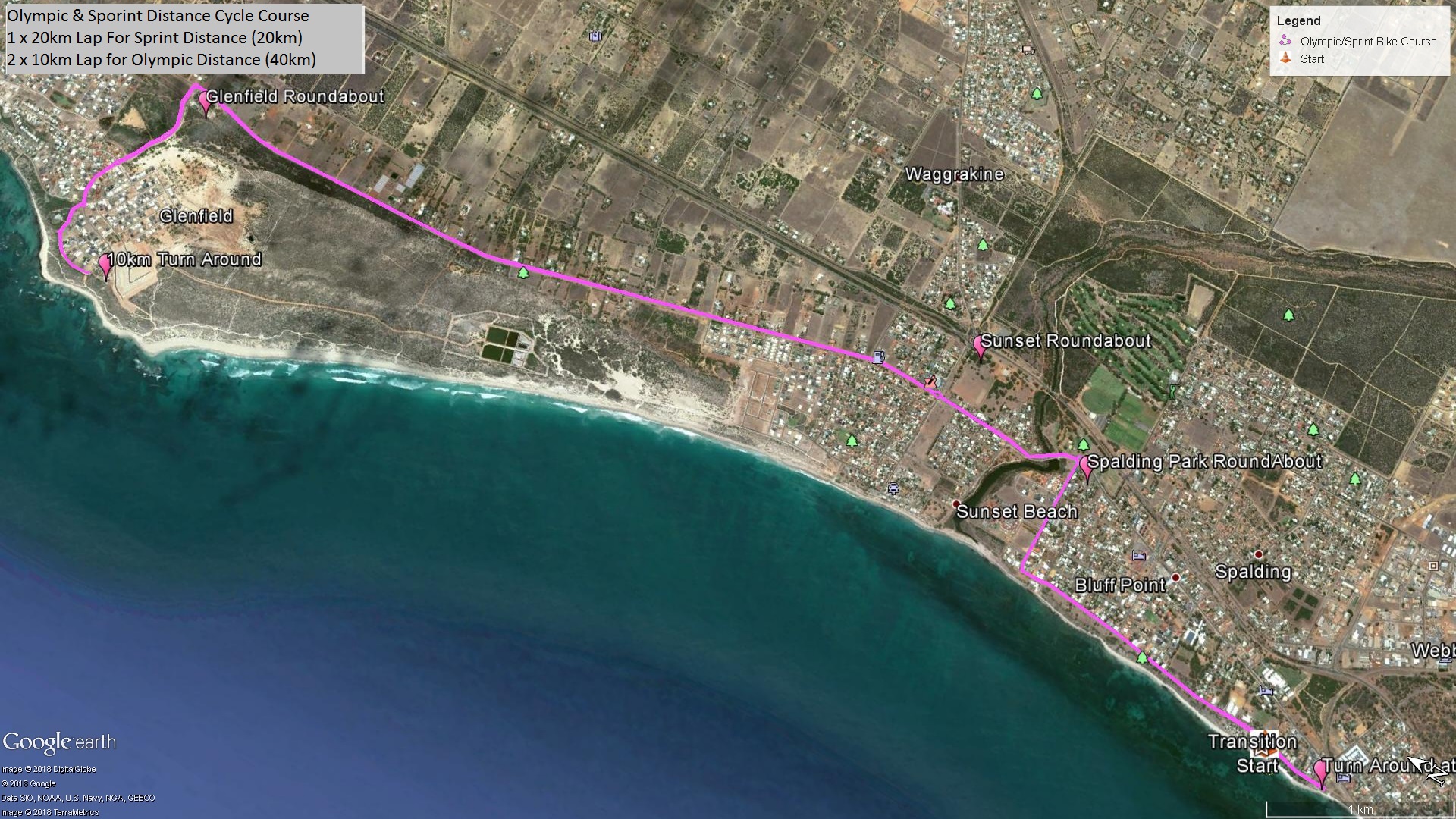 Cycle Course
Sprint Distance 1 x Lap 20km
Olympic Distance 2 x Laps 40km
Cycle course is on OPEN roads – you must obey all road rules and give way to all traffic when required
1. Head North on Kempton Street and follow the bend to Spalding Park Rondabout
2. Turn Left – giving way to traffic from the right
3. Continue on Chapman Road – straight through the roundabout at Sunset Beach
4. Continue to next roundabout at Glenfield / Drumonds Cove
5 Turn Left and Follow Signs to the turnaround point
6. Return on the same route – but continue past Transition and U Turn in the Cul-de-Sack at the end of Kempton Street
7. Dismount you bike at the dismount line or continue for your 2nd lap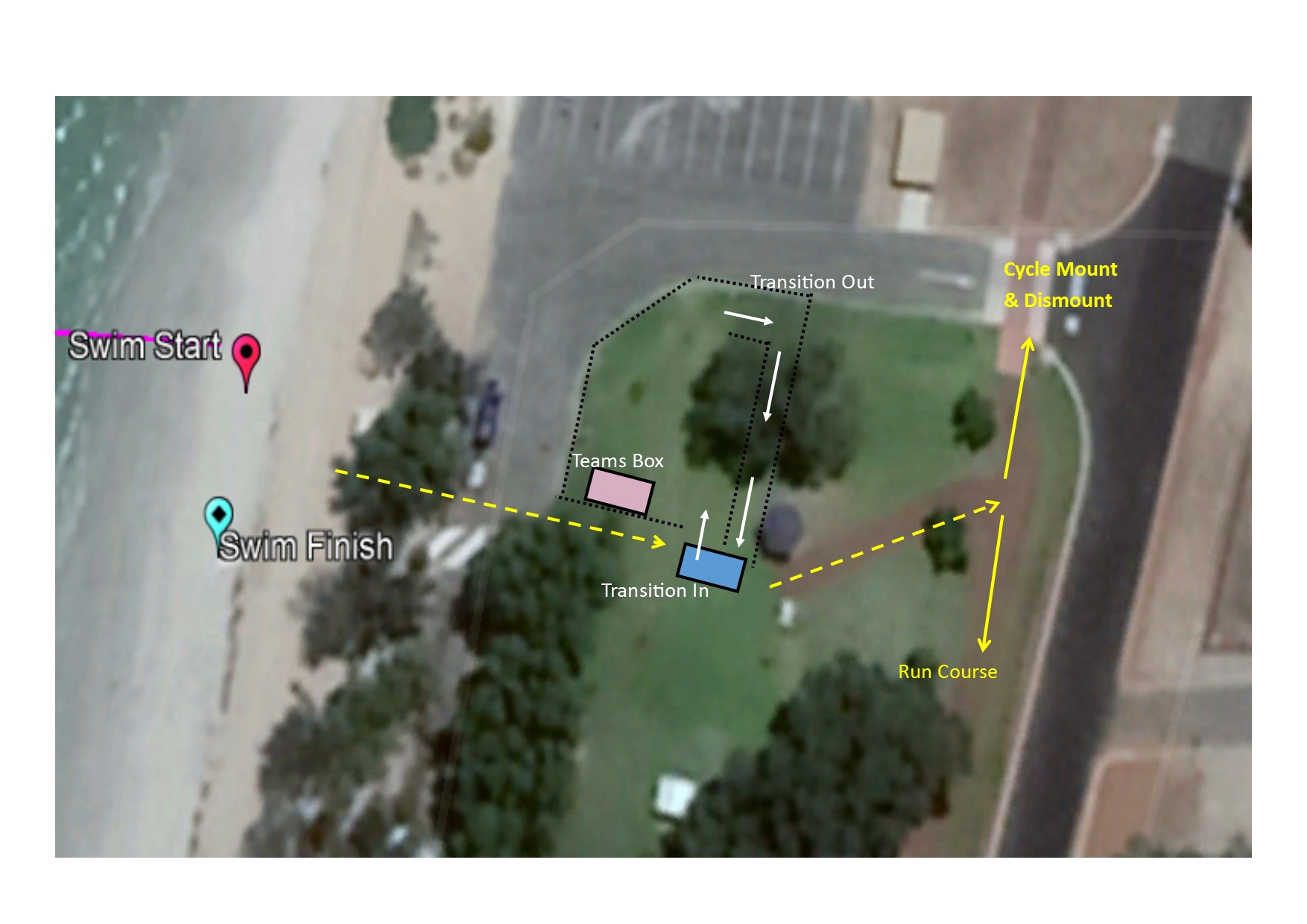 Transition Map
Enter Transition on the Left hand of the timing mat side every time
Exit through the race on the Left side each time
Team members to wait in the Teams Box
Teams to rack bikes before exchanging timing band
Team members to exit through the race on the Left side of Timing Mat
Turn left to start cycle course
Turn right to start run course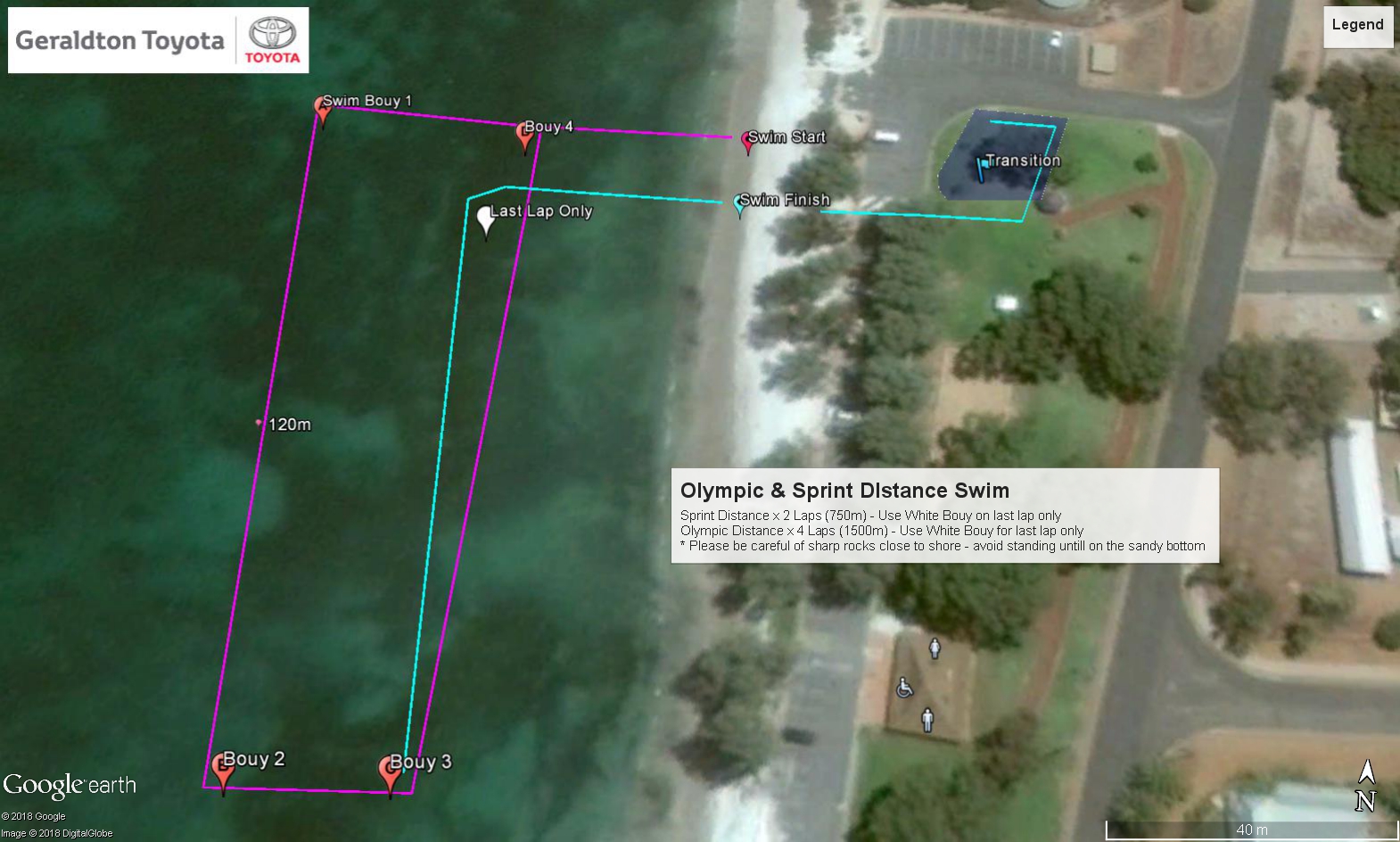 Swim Course
Sprint Distance 2 Laps 750m
Olympic Distance 4 Laps 1500m
Start From Beach
Swim Counter Clockwise around Orange Bouys
On The last lap swim around the White Bouy ( to your Right
Wet Suits are permitted for the swmi leg
Run to transition – going over the right hand side of the Timing Mat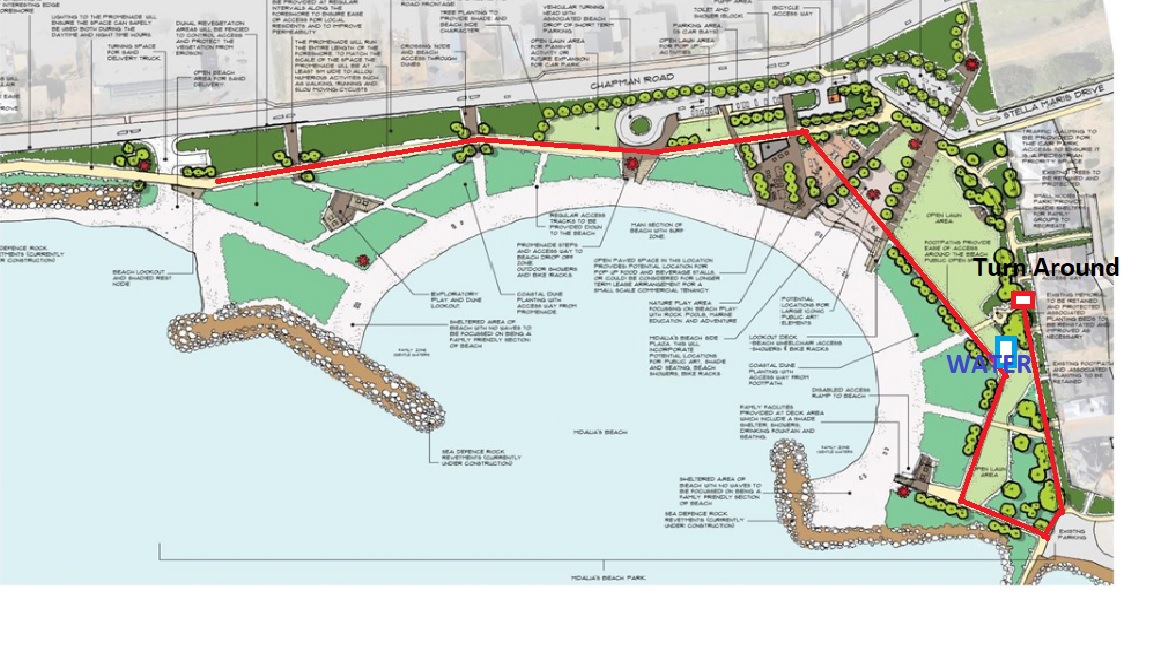 Run Course
Sprint Distance 1 Laps 5km
Olympic Distance 2 Laps 10km
Leave Transition and head South on Red Path
Continue along Gravel Path onto the Foreshore path
Follow the signs to the Turnaround Point
Return to Transition and Repeat for Olympic DIstance
There will be water stations at Transition and at 2.4km / 7.4km Marks
There are showers and drinking fountains along the Foreshore Pathway